Book Shop
The Algonquin Round Table Book Shop
This site is a member of Amazon Associates. Any purchases you make generates a few pennies to support the hosting costs of this site. Thank you!
By Kevin C. Fitzpatrick, Foreword by Anthony Melchiorri
Hardcover, Paperback, E-Book, 288 pages, illustrated with photos and maps, Lyons Press, Dec. 2014.
Explore the Algonquin Round Table's favorite salons and saloons, their homes and offices (most still standing), while learning about their colorful careers and private lives. Packed with archival photos, drawings, and maps, including never-before-published material, this illustrated historical guide shows readers New York of yesterday and today. Use it to retrace the footsteps of the Algonquin Round Table, and you'll discover that the golden age of Gotham still surrounds us. Written by Kevin C. Fitzpatrick, author of A Journey into Dorothy Parker's New York and president of the Dorothy Parker Society. The foreword is by Anthony Melchiorri, creator and host of Hotel Impossible on the Travel Channel, and former general manager of the Algonquin Hotel.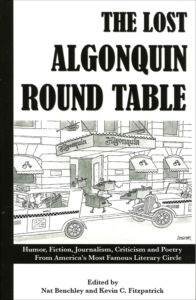 Edited by Nat Benchley and Kevin C. Fitzpatrick
Hardcover & Paperback, 300 pages, Donald Books, 2009.
The Lost Algonquin Round Table contains 50 pieces written by the legendary group of writers and critics that met at New York City's Algonquin Hotel in the 1920s. This new collection presents, for the first time, many pieces from family collections and long-lost periodicals. Nat Benchley, grandson of Robert Benchley, and Kevin C. Fitzpatrick, author of A Journey into Dorothy Parker's New York, edited the book. Unearthed from dusty bookcases, public troves and dark recesses:
Humor pieces by Robert Benchley, Franklin P. Adams, Heywood Broun, Frank Sullivan, and Donald Ogden Stewart. Criticism from Dorothy Parker, George S. Kaufman, and Robert E. Sherwood. Short fiction by Laurence Stallings and Pulitzer Prize-winners Edna Ferber and Margaret Leech. Journalism from Alexander Woollcott, Ruth Hale, and Deems Taylor. Poetry by Adams, Marc Connelly, Dorothy Parker, and John V. A. Weaver.
The Lost Algonquin Round Table is a rich compendium of the writings that made the group famous, before their japes and bon mots were collected and anthologized. Here, under one cover, are many of the pieces that brought the members of the famous salon to the publics attention. The collection offers ample evidence of why the group was so revered.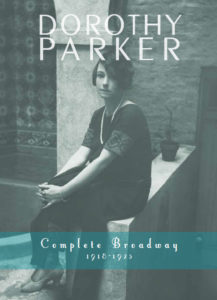 By Dorothy Parker, Edited by Kevin C. Fitzpatrick
Hardcover, Trade Paperback, E-Book, 500 pages, Donald Books | iUniverse, 2015.
The groundbreaking Broadway reviews of the inestimable Dorothy Parker are collected in one volume. For the first time in nearly 100 years readers can enjoy Mrs. Parker's sharp wit and biting commentary on the Jazz Age hits and flops. Starting when she was 24 at Vanity Fair as New York's only female theatre critic, Mrs. Parker reviewed some of the biggest names of the era: The Barrymores, George M. Cohan, W.C. Fields, Helen Hayes, Al Jolson, Eugene O'Neill, Will Rogers, and the Ziegfeld Follies. Her words of praise—and contempt—for the dramas, comedies, musicals, and revues are just as fresh and funny today as they were in the age of speakeasies and bathtub gin.
"If I were to tell you the plot of the piece, in detail, you would feel that the only honorable thing for you to do would be to marry me," she wrote.
This collection brings together more than 150,000 words written by Dorothy Parker for Vanity Fair, Ainslee's, and newspapers from 1918-1923. It is annotated with a notes section and foreword by Kevin C. Fitzpatrick, president of the Dorothy Parker Society.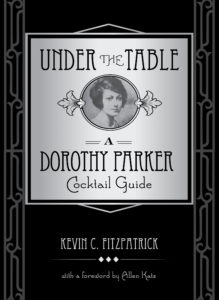 By Kevin C. Fitzpatrick, Foreword by Allen Katz
Hardcover, E-Book, 140 pages, illustrated with cartoons and photos, Lyons Press, 2013.
There has never been a book that collected cocktail recipes that tie the 1920s together with the celebrities of the era that made the drinks so famous. This is that guidebook.
Under the Table: A Dorothy Parker Cocktail Guide was written by Kevin C. Fitzpatrick, author of A Journey into Dorothy Parker's New York and president of the Dorothy Parker Society. The handsome book has delicious recipes from A-Z: The Aviation to The Ziegfeld. A bar book for Jazz Age enthusiasts and literary tipplers alike, Under the Table offers a unique take on Mrs. Parker, the Algonquin Round Table, and the Jazz Age by profiling and celebrating the drinks that she, her bitter friends, and sweetest enemies enjoyed and discussed. Each entry of this delicious compendium offers a fascinating and lively background of a period cocktail, its ingredients, and the characters associated with it. The book is filled with vintage photos and illustrations, designed like a time capsule from the 1920s.
Allen Katz is one of the founders of the New York Distilling Company, distillers of Dorothy Parker American Gin. He's an authority in the American spirits industry, and life-long fan of Mrs. Parker.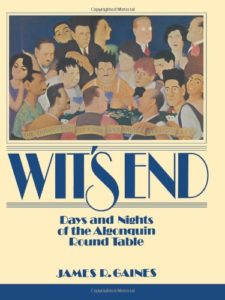 by James R. Gaines
Hardcover, Trade Paperback, 251 pages, Harcourt, 1977.
This is the best book out there about the roots, growth and history of the Round Table. Jim Gaines has done a remarkable job of presenting the colorful group. Packed with photos and illustrations, a must-have book for devotees of the Vicious Circle. Gaines interviewed several members before they passed away, making this an invaluable guide to the group.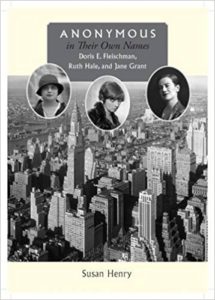 By Susan Henry
Hardcover, 304 pages (illustrated), Vanderbilt University Press, 2012.
Anonymous in Their Own Names recounts the lives of Jane Grant, Ruth Hale, and Doris E. Fleischman, who, while working as their husbands' uncredited professional partners, had a profound and enduring impact on the media in the first half of the twentieth century. Both Grant and Hale were Algonquin Round Table members, but their careers and reputations were overshadowed by their more famous husbands, Harold Ross and Heywood Broun. Grant cofounded The New Yorker with Ross but is written out of the magazine's history. Hale was a major feminist of the era, who ghost-wrote many of Broun's journalism pieces. With her husband, Edward L. Bernays, Doris E. Fleischman helped found and form the field of public relations. Susan Henry explores the lives and careers of these pioneering feminists in an academic and well-researched book. This is the first book to cover Grant and Hale, both core members of the Vicious Circle.

by Robert E. Drennan (Editor), Heywood Hale Broun (Introduction)
Paperback & E-book, 176 pages (illustrated), Skyhorse Publishing, 2012.
This is a great book for any fan of the Round Table. It first came out in 1968 and was reprinted in 1989 and 2000. It has a warm introduction by Heywood Hale Broun (son of Heywood Broun and Ruth Hale). It collects dozens and dozens of the famous quips and quotes. Besides Mrs. Parker, it includes Franklin Pierce Adams, Robert Benchley, Heywood Broun, Edna Ferber, Ring Lardner, George S. Kaufman, Harpo Marx, Harold Ross, Robert Sherwood, Alexander Woollcott and others "completing the circle." There are so many gems here. One of them: Mrs. Parker gave the following advice to a friend who's ailing cat had to be put away: "Try curiosity."

by Robert Benchley. Illustrated by Peter Arno
Hardcover, 353 pages, Wings Press, 1996
The Best of Robert Benchley, a compendium of 72 of his funniest stories. There is, for example, his meditation on the future of the species, Future Man: Tree or Mammal, in which he posits that the humans of the future will be both brightly dressed and legless (you'll have to read the essay to find out why); or The Real Public Enemies, in which he laments the hostility of inanimate objects. Seventy-two timeless pieces celebrate the humorous side of life's annoyances and the author's suggestions for coping–or not coping–with them, and address such topics as government imbibing and Christmas finances. Artwork by legendary New Yorker artist Peter Arno only adds to the joy of this edition.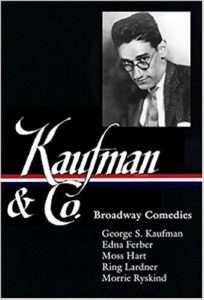 by George S. Kaufman (and collaborators)
Hardcover, 950 pages, Library of America, 2004
This is the most comprehensive collection of George S. Kaufman plays ever assembled. Nine classics: his uproarious "backstage" play The Royal Family (1927, written with Edna Ferber); the Marx Brothers mayhem of Animal Crackers (1928, with Morrie Ryskind), in a version discovered in Groucho Marx's papers and published here for the first time; June Moon (1929, with Ring Lardner), a hilarious look at a young composer trying to make it big on Tin Pan Alley; Once in a Lifetime (1930, with Moss Hart), one of the first and best satires of Hollywood; Pulitzer Prize-winners Of Thee I Sing (1931, with Morrie Ryskind and Ira Gershwin) and You Can't Take It with You (1936, with Moss Hart); Dinner at Eight (1932, with Edna Ferber), a tart ensemble piece that mixes comedy and melodrama; Stage Door (1936, with Edna Ferber), his much-loved story about young actresses trying to make it big in New York City; and The Man Who Came to Dinner (1939, with Moss Hart), an unforgettable burlesque of America's cult of celebrity.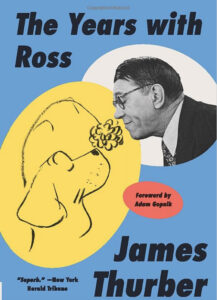 by James Thurber, Foreword by Adam Gopnik
Paperback & e-book, 336 pages,  Harper Perennial, 2020
A new edition of this book from 1959 was issued by Harper Perennial in 2020, using the new foreword by Adam Gopnik from 2001. At the helm of America's most influential literary magazine for more than half a century, Harold Ross introduced readers to a host of exciting talent, including Robert Benchley, Alexander Woollcott, Ogden Nash, Peter Arno, Charles Addams, and Dorothy Parker. James Thurber captures not only a complex literary giant, but a historic friendship and a glorious era as well. Thurber wrote this book not long after Ross' death in 1951; it is warm and intimate, and provides a wonderful look at one of the greatest editors in American publishing history. There are stories about the art conferences, the various departments and the parade of names that contributed — or failed to — the magazine's growing stature: Sayre, Johnston, Ingersoll, Sullivan, Cheever, Addams, Hokinson, Arno, Woollcott (and the non-stop mutual sniping between him and Ross), Gibbs, the Whites, O'Hara, Lardner, Mosher, Parker, Benchley, McNulty, Walker, Wilson, McKelway, and more and more.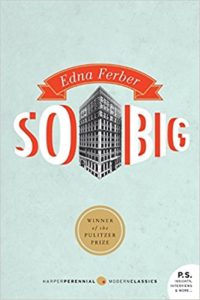 by Edna Ferber 
Hardcover, Paperback, E-Book, Audiobook, 272 pages, Harper Perennial, 2000
Winner of the 1924 Pulitzer Prize, So Big is widely regarded as Edna Ferber's crowning achievement. A rollicking panorama of Chicago's high and low life, this stunning novel follows the travails of gambler's daughter Selina Peake DeJong as she struggles to maintain her dignity, her family, and her sanity in the face of monumental challenges.