Members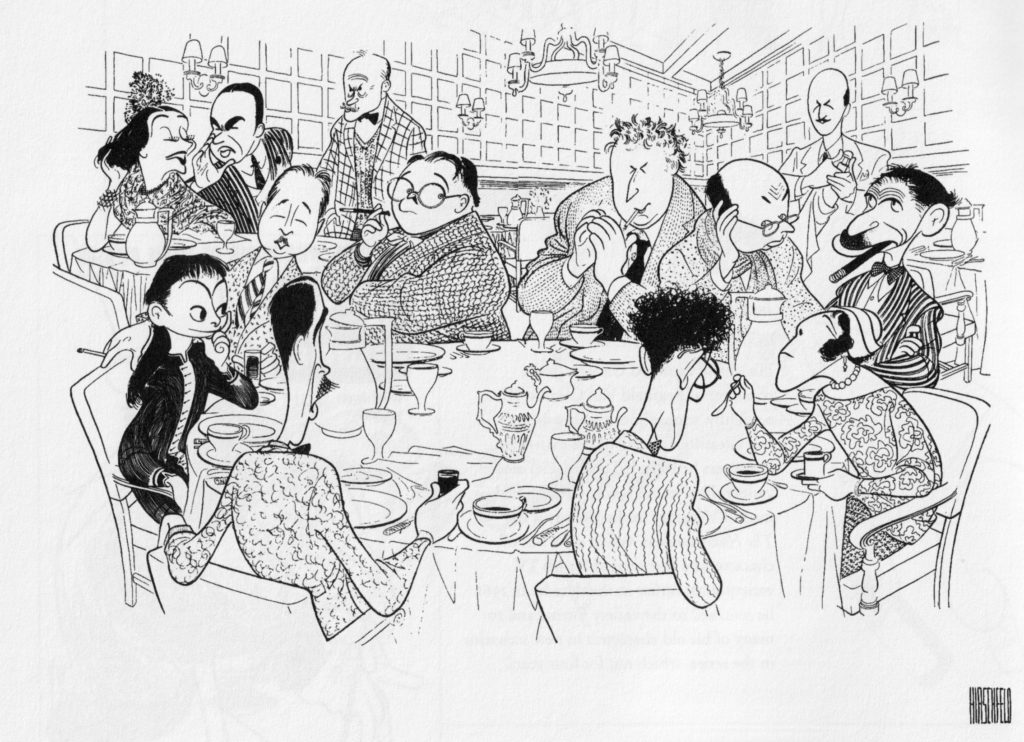 Members of the Round Table
"When I was born I owed twelve dollars." — George S. Kaufman
The Complete List. Compiled from:
The Diary of our Own Samuel Pepys (Franklin P. Adams),
The Algonquin Round Table New York: A Historical Guide (Kevin C. Fitzpatrick),
The Vicious Circle: The Story of the Algonquin Round Table (Margaret Case Harriman),
Wit's End: Days and Nights of the Algonquin Round Table (James R. Gaines).
Franklin P. Adams (1881–1960): Columnist at the New York Tribune, the New York World, and the New York Evening Post; wrote the "Always in Good Humor" and "The Conning Tower" columns. Always known as FPA.
Robert Benchley (1889–1945): Vanity Fair managing editor, Life drama editor, humorist and actor in short films.
Heywood Broun (1888–1939): Sportswriter at New York Tribune, columnist at New York World, author; helped found Newspaper Guild.
Marc Connelly (1890–1980): Newspaperman turned playwright; cowrote plays with George S. Kaufman. Won Pulitzer Prize for play The Green Pastures.
Edna Ferber (1887–1968): Novelist and playwright. Cowrote plays with George S. Kaufman, including Dinner at Eight. Won Pulitzer Prize for her novel So Big. Wrote Show Boat, Saratoga Trunk, Cimarron, and Giant.
Margalo Gillmore (1897–1986): Actress and "the baby of the Round Table." Starred in early Eugene O'Neill plays.
Jane Grant (1892–1972): First female New York Times general assignment reporter; cofounded The New Yorker with husband Harold Ross.
Ruth Hale (1887–1934): Broadway press agent, helped pass Nineteenth Amendment for women's rights, married Heywood Broun. Fought to use her maiden name professionally.
Beatrice B. Kaufman (1894–1945): Editor, writer, socialite. Married to George.
George S. Kaufman (1889–1961): Playwright, New York Times drama editor, producer, director, actor. Wrote forty-five plays (twenty-six hits), won two Pulitzer Prizes.
Margaret Leech Pulitzer (1894–1974): Magazine short story writer turned serious historian. Married Ralph Pulitzer; after his death, she earned two Pulitzer Prizes in history.
Neysa McMein (1888–1949): Popular magazine cover illustrator, painter. Wrote about party games.
Herman J. Mankiewicz (1897–1953): Press agent, early New Yorker drama critic; cowrote plays with Kaufman, produced Marx Brothers movies. Won an Oscar for co-writing Citizen Kane.
Harpo Marx (1888–1964): Actor, comedian, musician, card player.
William B. Murray (1890–1949): Writer and publicist. Murray was a music critic on the Brooklyn Eagle and later head of radio sponsorships at William Morris.
Dorothy Parker (1893–1967): Vanity Fair drama critic, New Yorker critic. Celebrated poet, short-story writer, playwright. Wrote Hollywood screenplays. Champion for social justice.
Brock Pemberton (1885–1950): Broadway producer and director. Wrote short stories.
Murdock Pemberton (1888–1982): Broadway press agent, first art critic for The New Yorker.
Harold Ross (1892–1951): Founded The New Yorker with his wife, Jane Grant. He ran the magazine from 1925 until his death.
Arthur H. Samuels (1888–1938): Editor of Harper's Bazaar.
Robert E. Sherwood (1896–1955): Vanity Fair drama editor, Life editor, author, playwright who won four Pulitzer Prizes. Won Oscar for writing The Best Years of Our Lives.
Laurence Stallings (1895–1968): Ex-reporter, editorial writer for New York World. Collaborated with Maxwell Anderson on What Price Glory?
Donald Ogden Stewart (1894–1980): Author, playwright, screenwriter. Red Scare led to him being blacklisted and barred from United States. Won Oscar for The Philadelphia Story.
Frank Sullivan (1892–1976): Journalist turned humorist. A member of The World, he was a longtime contributor to The New Yorker.
Deems Taylor (1886–1966): Music critic turned populist composer. Wrote libretto for The King's Henchmen with Edna St. Vincent Millay. Started national concert series. Narrator of Disney classic Fantasia.
John Peter Toohey (1880–1946): Theater press agent for Dinner at Eight, You Can't Take It with You, Of Mice and Men, The Man Who Came to Dinner.
David H. Wallace (1889–1955): Theatrical press agent and writer.
John V. A. Weaver (1893–1938): Bestselling poet who wrote in street vernacular (In American, Finders) , literary editor of the Brooklyn Eagle; married Peggy Wood.
Peggy Wood (1892–1978): Actress in musical comedies, plays, early TV star.
Alexander Woollcott (1887–1943): Drama critic for New York Times and New York World, CBS radio star as the Town Crier, model for the character of Sheridan Whiteside in Kaufman and Hart's "The Man Who Came to Dinner".