Marking the 75th Anniversary of the Death of Robert Benchley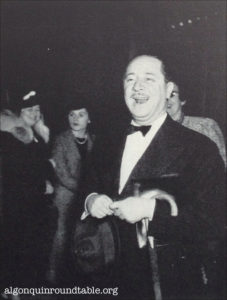 Seventy-five years ago today, hard-working Robert Charles Benchley died in his hospital room. He was just 56 years old. Benchley, once the country's premier humorist, had stayed active until the end. In 1933, he began his first radio show, broadcast on CBS. He also appeared in 46 movie shorts between 1928 and 1945. Columnist Sidney Carroll wrote in 1942, "The movies get a comedian and the literary muse seems destined to lose her most prodigal son for good. Literature lost out because so many people in Hollywood think Robert Benchley looks much funnier than he writes. And they keep him busy looking at the cameras instead of writing for them." At the time, Benchley was on the Paramount lot making two forgettable films: Out of the Frying Pan and Take a Letter, Darling.
Throughout World War II Benchley kept up an extremely busy pace in Hollywood. He lived in a bungalow in the Garden of Allah and worked steadily in movies and radio. In his early fifties Benchley eventually suffered from health problems exaggerated by his heavy drinking. He was diagnosed with cirrhosis of the liver and high blood pressure. In late 1945 he returned to New York for a break, but his health slid downhill. He collapsed in his room at the Royalton Hotel on West Forty-fourth Street. He died in the Harkness Pavilion at the Columbia University Medical center on Fort Washington Avenue, on November 21, 1945.
Following a private service his body was cremated and the ashes were given to his family. At the cemetery in Nantucket, however, the family discovered that the urn was empty. When the correct cremains were located, his ashes were interred properly. His headstone, chosen by his son, Nat, was carved with his New Yorker byline, an em dash before his name. His beloved wife, Gertrude, is buried next to him. She died in 1980.
Today, what is the legacy of Robert C. Benchley, 75 years after his death? Many of his humor columns were collected in best selling books. They are all long out of print. No major publisher is publishing his work; his words live on in digital archives maintained by his two most famous magazine affiliations, Vanity Fair and The New Yorker. His words do reach new audiences decades after his death; earlier this month the humorist and television writer Merrill Markoe told New York magazine that Benchley was a major influence on her style.
If anyone new to Benchley–born in the last 25 years–they would probably first discover him on TCM. His movies appear often. You can press a button and stream him right now on Disney+ and watch The Reluctant Dragon. The Robert Benchley Society, founded by David and Mary Trumbull in 2003, is the only organization keeping his spirit alive. Like some of his peers from the Algonquin Round Table–Marc Connelly, Deems Taylor, Alexander Woollcott–Benchley is teetering on being lost to history, remembered only by those hardcore old comedy fans that keep talking about him in the way we reminisce about things we'll never see, such as Vaudeville and the Ziegfeld Follies.
Benchley was a teetotaller until he fell in with the Vicious Circle in the Speakeasy Era in his thirties. Twenty years later, drink did him in. Is it appropriate to raise a glass to him? Since we cannot sit at his table at "21" today, I think it's more than appropriate, the milestone of today demands it.
For more about Robert Benchley, read The Algonquin Round Table New York: A Historical Guide (Lyons Press), out now in paperback.