Classic Woollcott Letter Turns 85 Years Old
One of the greatest keepers of correspondence of the Algonquin Round Table was the man who the group formed around, Alexander Woollcott. Of all 30 members of the Vicious Circle, only he had his letters posthumously published. One of his greatest hits, from November 10, 1934, turns 85 years old today.
It was written to lyricist and friend Ira Gershwin, among the biggest names in Broadway from the last century. Woollcott was close to him and his brother, George Gershwin. For whatever reason–lost to history today–Ira decided to use the word "disinterested" in the presence of the public and Woollcott. The electric chair that Woollcott wanted to put the Broadway star onto just leaps off the page. Among the others in the letter are Ben Hecht, the newspaperman-turned-playwright who co-wrote The Front Page with Woollcott's pal, Charles MacArthur, and producer Jed Harris.
The letter in all its glory is presented here.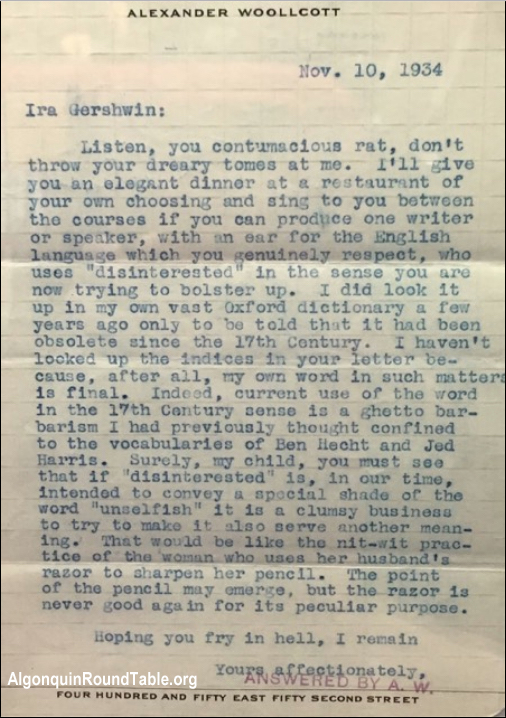 At the time Woollcott was a radio star on CBS, writing for The New Yorker, and spending months at his vacation home in Vermont on Lake Bomoseen.
There are many, many other Woollcott letters out there. One of these is a form letter he sent on behalf of a liquor company. It was an early form of product placement, disguised as a letter. The letter is written about from time to time by spirits and Americana writers.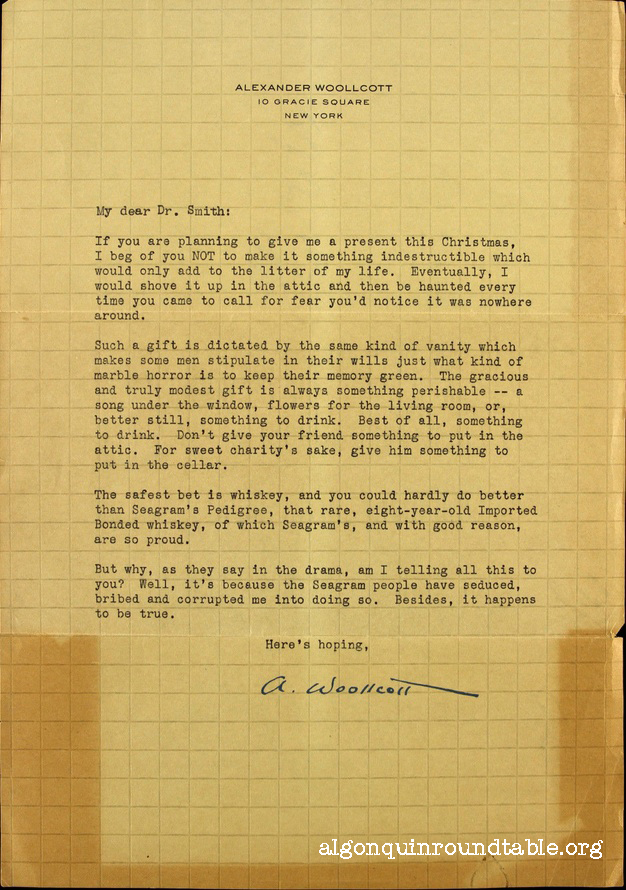 Do YOU own any letters written by members of the Algonquin Round Table? That are not forgeries? Contact me and I'll gladly look them over.