117 Years Ago Today 1st Guests Arrived at the Algonquin Hotel
Today is the anniversary of the opening of the Algonquin Hotel in 1902. Guests 117 years ago checked into the newest hotel on the block, located at No. 59-63 West Forty-fourth Street. When the Vicious Circle launched a century ago in 1919, it was but just 17 years old.
For the 2015 book The Algonquin Round Table New York: A Historical Guide (Globe Pequot), an entire chapter is devoted to the history of the hotel, its ownership era, and legends. A brief excerpt about the early days in 1902 begins:
"It isn't the oldest hotel on the block. Both the Royalton at No. 44 and the Iroquois at No. 49 opened in 1900. In 1901-1902 the Thompson-Starrett Company built the Algonquin Hotel for the Puritan Realty Company. Puritan bought the plot, 72 x 100 feet, for $180,000 in November 1901. Construction of the one-hundred thirty-six foot tall building took just seven months. Puritan Realty put up the money, $500,000, and Thompson-Starrett acted as the architects and contractors. Twenty-eight year-old architect Goldwin Starrett worked on the hotel with his brothers Theodore, Ralph, and William.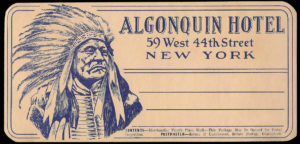 It opened as the Hotel Algonquin, named for the Native Americans who were populous in New England during the pre-colonial era. "Algonquin" was chosen at the suggestion of first owner Ann Stetson Foster, because the Hotel Iroquois was already next-door. "It will make a veritable Indian settlement," she said.
The first guests checked in on November 22, 1902. The twelve-story hotel had 192 rooms and suites. A room and bath en suite cost $2 a day, while a three-bedroom suite with private hall, sitting room, dining room, three bathrooms, and library would set you back $10. Following extensive renovations in 2012, the hotel now has 181 rooms; of those 25 are suites."
The hotel is local and national literary landmark. We lift a glass to its continued history, success, and achievements. Here is a great podcast recorded inside the hotel by Greg and Tom, The Bowery Boys.