The Flop of 1934, Divided By Three Fails to Find an Audience
Eighty-five years ago the Algonquin Round Table members Peggy Leech and Bea Kaufman were licking their wounds after their debut collaboration flopped on Broadway. The two friends worked for about a year on a drama that failed to succeed. Divided by Three was the first play to open the Ethel Barrymore Theatre. It had a popular cast, led by megastar Judith Anderson, with a young Jimmy Stewart in a supporting role.
Divided By Three has not been published and is not available. It ran for just 32 performances in October 1934. Among the tepid reviews were this one from Time, 10/15/1934:
Divided by Three (by Margaret Leech Pulitzer and Beatrice Kaufman; Guthrie McClintic, producer) was written to make room for the superb abilities of smoldering Judith Anderson. It borrows the plot of Eugene O'Neill's Strange Interlude and puts Miss Anderson back in the role she enormously enjoyed for a year. In Divided by Three again she is divided by: 1) her aggressive middle-aged lover (James Rennie); 2) her incredibly unsuspecting putterer of a husband; 3) her son (James Stewart). She finds it desirable and, until the second act curtain, possible to accept all three simultaneously.
It is her son who learns of her adultery, through the kindly offices of his priggish fiancée. As priggish as she, he calls his mother a whore and withdraws his love from both mother and fiancée. The last act allows everyone (still except the husband) to become readjusted to the situation. The son still feels that adultery is wrong; his mother is still determined to have what she wants. But just as she decides to come clean and divorce her husband, he comes home with the news that he has been wiped out in the stock market. Like the noble character she is, she drops the divorce plans. Her lover, after a minute's anguish, decides after all to stay for dinner.
Only Judith Anderson makes this implausible story a moving and challenging affair. She bats her heavy-lidded eyes, settles her welterweight shoulders and makes her audience feel that something important is happening. Noteworthy are Donald Oenslager's handsome settings.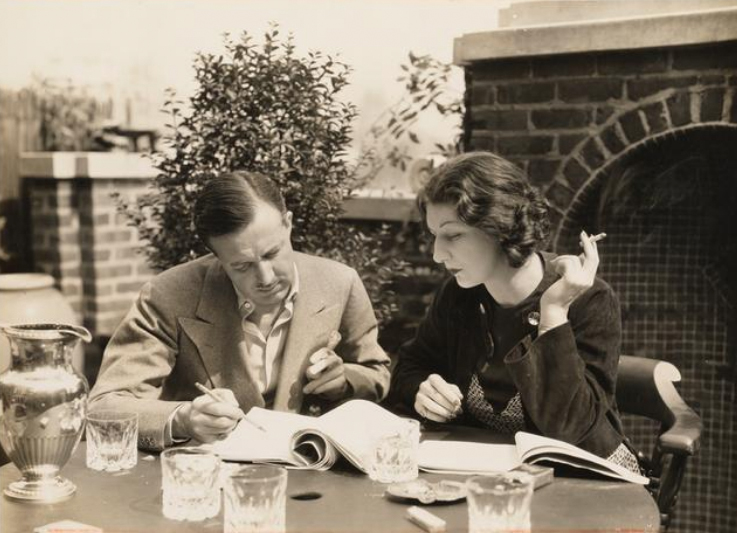 More newsworthy than their first play are Divided by Three's authors.
Margaret Leech Pulitzer is the second wife of that studious, shy Ralph Pulitzer whom newspapermen have never forgiven for letting his late great father's New York World be sold, and whom they howled out of accepting the post of administrator of the NRA newspaper code.
Beatrice Bakrow Kaufman is the wife of playwright George S. Kaufman (Of Thee I Sing, Once in a Lifetime, Dinner at Eight, Merrily We Roll Along), who lives on meat and chocolate peppermints, talks to himself on the street and is on the administration committee of the NRA theatre code.
Both Mrs. Pulitzer and Mrs. Kaufman are ringleaders of Manhattan's first-nighting, croquet-playing, waggish literary-theatrical-social set. Mrs. Pulitzer has a two-year-old daughter; Mrs. Kaufman has a nine-year-old daughter. Mrs. Pulitzer graduated from Vassar, has written three competent novels, hates bridge, likes travel. Mrs. Kaufman quit Wellesley after a year; quit the University of Rochester to marry Mr. Kaufman. She is convinced she is No. 1 woman croquet player of the U. S.
Last week Manhattan critics tried to like their friends' first play but only half of them succeeded.