Radio Pioneers of the Algonquin Round Table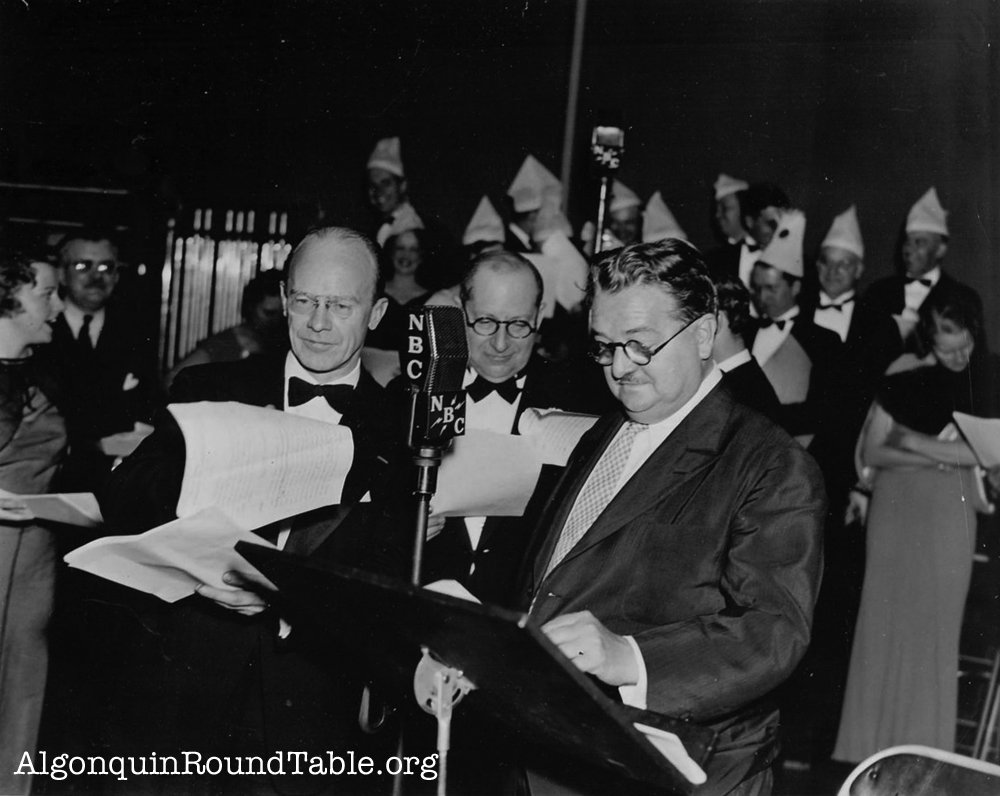 When I was compiling the material for my book, The Algonquin Round Table New York: A Historical Guide, I was struck by the group's versatility. I'd originally believed the group, which met from 1919 to about 1927, was the realm of newspaper and magazine writers. However, by researching the biographies of all thirty members, it became clear the group had their fingers in every form of mass entertainment and media.
It turns out that there were members with careers that stretched from silent pictures to live television, such as actresses Margalo Gillmore and Peggy Wood. Robert Benchley made the first all-talking short, The Treasurer's Report, released in March 1928 by Fox. Marc Connelly and Dorothy Parker both wrote captions and scenarios for the silents, then later jumped into writing plays and talkies.
But if there is one format that most of the members drew paychecks from after the Round Table ended, that's radio. Many members of the group appeared as guests, commentators, writers, or actors. Benchley and Parker had their short stories adapted for dramatizations. Harpo Marx whistled his answers on-air. Others made the transition from newspapers to microphones, trading on their popularity as writers.
The book has more than 100 locations around the New York area tied to the lives of the "Vicious Circle" that met at the Algonquin Hotel on West Forty-fourth Street. Here are three spots from their radio days, all within walking distance of the Round Table.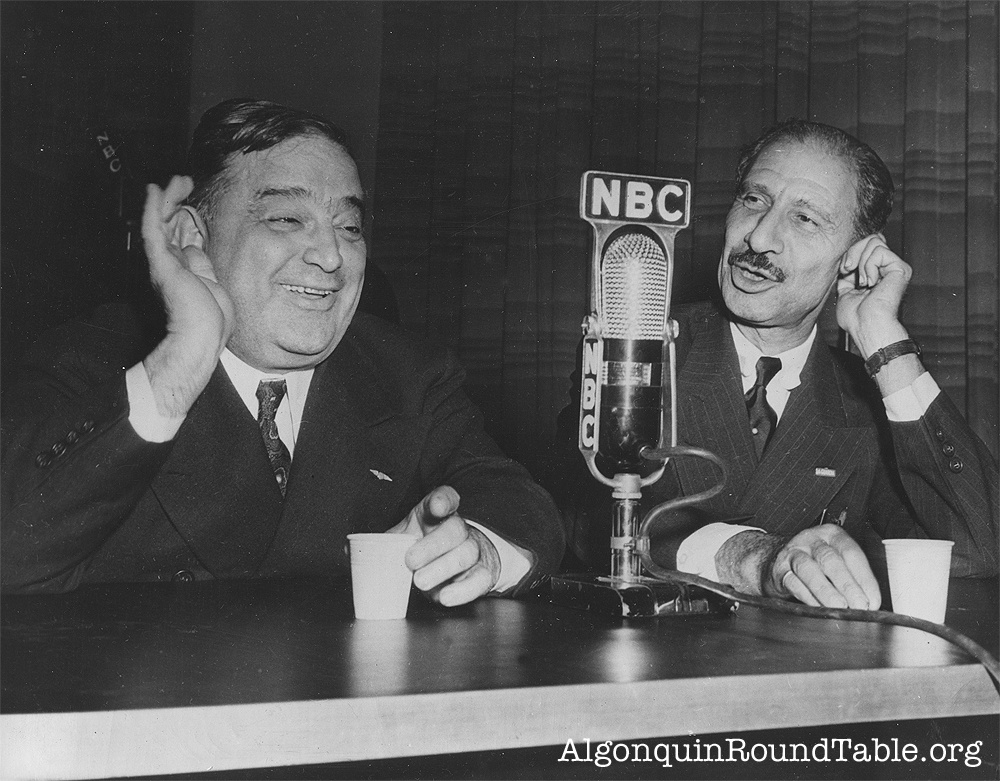 NBC, 30 Rockefeller Plaza
Franklin P. Adams was a veteran newspaper columnist with 35 years' experience when his services were no longer needed. Radio saved him, and a quiz show was the last hurrah of his brilliant career. In 1937, the Herald Tribune didn't renew his contract. With an encyclopedic knowledge of literature and trivia and a family of five to support during the height of the Great Depression, the offer to be a regular panelist on a radio quiz show came as a blessing.
The format of Information Please was simple but brilliant. Listeners mailed in questions. If the question stumped a panel of experts, the listener won a small cash prize. The show was unrehearsed and conducted before a live studio audience. The 30-minute program moved like lightning, and experts and guests had to answer quickly. On May 17, 1938, Information Please debuted on the NBC Blue Network (later ABC). Clifton Fadiman, a literary critic who wrote for The New Yorker, was master of ceremonies. The show was an overnight success, and more than 25,000 questions poured into the studios.
One question put to F.P.A. in 1938 was to finish the Joe Miller gag, "Who was that lady I saw you with last night?" To which he replied, "There are two answers: That was no lady, that was my wife. And the other is that was no lady that was your wife." The show continued for ten years, mostly on NBC. Over time, just about every Round Table member appeared as a guest.
NBC has always been associated with Rockefeller Center. John D. Rockefeller Jr., son of the founder of Standard Oil, owned the land and helped create the landmark. The area bounded by Fifth and Sixth avenues from 48th to 51st streets contained numerous speakeasies before demolition in 1930. NBC has called 30 Rockefeller Plaza home since the building was completed in 1933, spanning corporate ownership from General Electric to Comcast. More than a dozen buildings form the complex today, with "30 Rock" as centerpiece. Radio studios were the original tenants (hence Radio City) and now television studios. The Art Deco buildings are landmarks inside and out.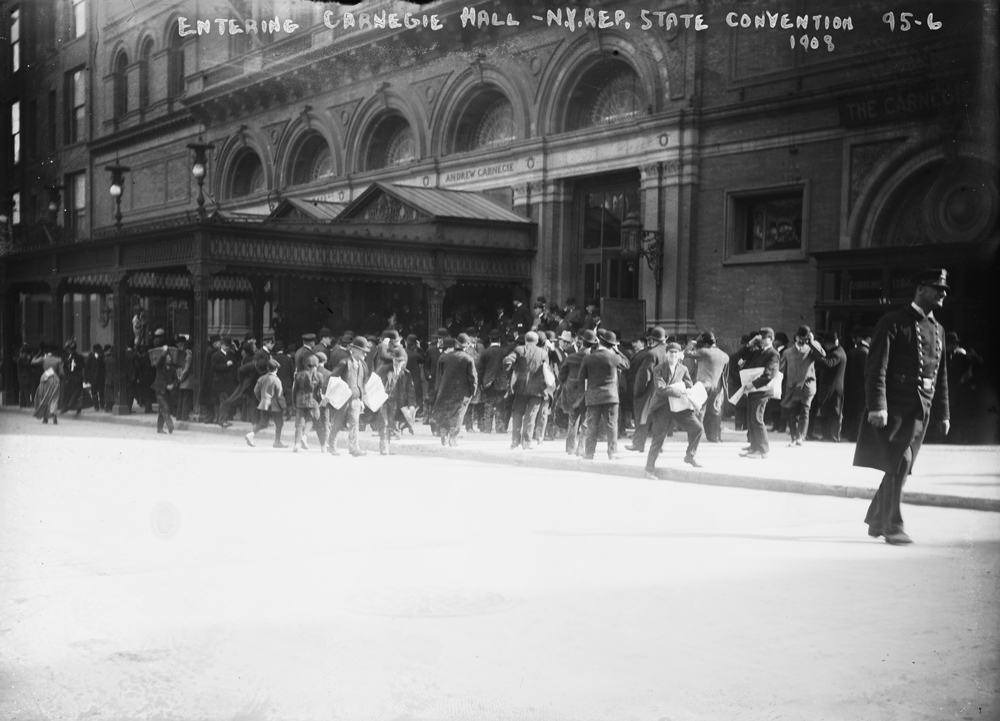 CBS, Carnegie Hall, 881 Seventh Avenue
When radio networks became national broadcasters in the late 1920s, some of the live programming was classical music. Symphonies and orchestras dominated as networks tried to reach upper class listeners. William S. Paley signed the New York Philharmonic to CBS in a major coup and gave the network enormous prestige.
Beginning in 1936, Deems Taylor served as commentator during intermissions. Already a star composer and conductor, he had been a newspaper music critic but never a broadcaster. His role at CBS was an enormous success, and Taylor found himself giving weekly music lecturers to a huge audience during Sunday afternoon concerts in Carnegie Hall. He helped listeners understand what they were hearing and helped a generation appreciate classical music. Taylor also introduced listener questions, interviewed orchestra members during intermissions, and brought the whole experience of classical music into the nation's living rooms. A broadcaster for more than ten years, Taylor became the country's best-known authority on music.
The building was saved from a wrecking ball in 1960 and underwent multi-million dollar renovations in recent years. Today the Isaac Stern auditorium, the main performance hall, seats 2,800.
CBS, 485 Madison Avenue
Alexander Woollcott loved to pontificate. He was a ham, a showman, and a natural as a radio broadcaster. He also notoriously recycled magazine articles and sold them to two and even three publications. Getting a radio show allowed him to retell those same stories to another audience and saved his career. From 1930 to 1943, Woollcott worked on the top floor in Studio One of the CBS Building. He was "The Town Crier" on panel discussion radio program, with national sponsorships. It was an early form of talk radio, with notable guests brought in and Woollcott acting as a moderator.
On January 23, 1943, a few days after he turned 56, Woollcott suffered a stroke during a live panel discussion. He was carried out of the CBS studios in his chair and brought to Roosevelt Hospital, but it was too late. A week later, a memorial service was held at Columbia University's McMillan Academy Theatre.
In 1930, the 24-story Columbia Broadcasting Building was completed for the two-year-old CBS radio network at 485 Madison Avenue to designs by J. E. R. Carpenter. This was CBS's home until 1965, when the company moved to the 38-story CBS Building designed by Eero Saarinen on Sixth Avenue and 52nd Street, nicknamed "Black Rock."
***
Originally written for Cladrite Radio.