Crazy for Games, Sports, and Puzzles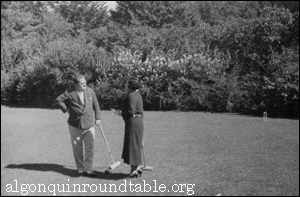 Sports and leisure were important to the Round Table. They loved professional sports—with baseball and boxing being the chief attractions. F.P.A. was an amateur tennis star. Their leisure time was taken up with parlor games, mind-benders, word play, and gambling. Their poker games were soul-crushing feats of gambling (Broun won and lost his house at a poker table). Charades and croquet consumed them.
Neysa McMein was credited with "inventing"—or at least popularizing—Scavenger Hunts. F.P.A. wrote about it in "The Conning Tower" on July 28, 1925:
"To Jane Grant's, where was a party for Alice Miller's birthday, and had a merry time of it, save for a silly treasure hunt, a craze that hath become widespread while I was not here to crusade against it."
While playing I Can Give You A Sentence, Dorothy Parker was tasked to use "horticulture" which led to the oft quoted, "You can lead a horticulture, but you can't make her think." Baseball was a passion, especially New York Giants games at the Polo Grounds. F.P.A. wrote "Baseball's Sad Lexicon" one of the most famous baseball poems of all time following a Giants game. Broun is in the Baseball Hall of Fame's sportswriters wing in Cooperstown.
The friends were crazy for crossword puzzles; they even wrote a book of them together. On January 4, 1925, the first Intercollegiate Cross Word Puzzle Tournament was held in the auditorium of the Hotel Roosevelt, 45 East 45th Street. With hundreds of cheering fans in the audience, Yale edged out Harvard, Princeton and the City College of New York. On the Harvard team were Broun (who never really graduated) and Robert E. Sherwood. Poet Stephen Vincent Benet and Jack Thomas made up the Yale team. The contest was held in rounds and each word was tackled individually. First Broun won a round by correctly guessing the name of a German poet with five letters (Heine). Then Sherwood backed him up with a seven-letter word meaning "honest in intention" (sincere). However, a foul play was called when the judge, Ruth Hale, sat beside her spouse, Broun.