The Years With Ross by Thurber Gets A Reboot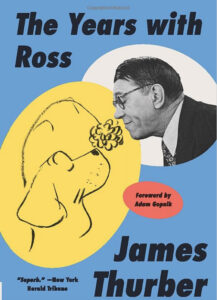 James Thurber was not a founding member of The New Yorker, he joined about one year after the first issue rolled off the presses in February 1925. He was hired by cofounder Harold Ross because Thurber had newspaper experience, which counted more than a college degree to the ink-stained Ross. The two worked closely for the next several years and it was at the magazine that Thurber hit his stride as a writer. It was also while working for the magazine that he started publishing his cartoons, which made him equally famous.
The Years With Ross was the book of memoirs that Thurber wrote in the years after Ross died in December 1951. It is based on his memories (which a few insiders didn't agree with). The book was a hit and continues to sell on the backlist of the successor to his original publisher. It also seems like every dozen years or so, sometimes more, a new edition comes out. If you tried to collect every edition and cover of The Years With Ross from 1959 to today, it would take up a small bookshelf. In 2001 Harper Perennial reissued the book with a new foreword by Adam Gopnik, the longtime writer for The New Yorker, who seems to get all the writing gigs when it concerns the magazine.
A new edition was brought out during the pandemic, in December 2020. It has a more colorful cover, using a stock news photo of Ross on the jacket. The photo is from the time Ross was in the public eye, testifying against public address announcements in Grand Central Terminal. It includes one of Thurber's dogs.
The paperback still has 336 pages. It has stories about Charles Addams, Peter Arno, Robert Benchley, Ogden Nash, Dorothy Parker, and Alexander Woollcott. One thing it lacks is anything of value about Ross' first wife, Jane Grant, who helped launch the magazine. She gets written out of any and all histories of The New Yorker, starting with this one. The book is a light read. It might also be useful if you plan to watch the upcoming Wes Anderson movie, The French Dispatch, which looks a lot like The New Yorker of the Harold Ross era.
Finally, a note to the HarperCollins art director. A cover blurb from the New York Herald Tribune is funny to see, since it has been defunct since 1966.
You can order the book here from Amazon, and the nine cents from Amazon will go to pay the hosting costs of this very website. More books about Round Table members are listed here.