A Look at Laurence Stallings, Writer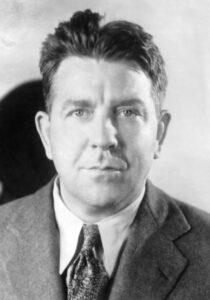 Laurence Tucker Stallings is mentioned about three times a year by the pop culture world. Usually it has to do with his screenwriting hits The Big Parade or She Wore A Yellow Ribbon appearing on television. There has only been one book about him, a not very good academic tome (by Joan T. Brittain, Laurence Stallings, Twain, 1975). When I was working on the book, I did reach a person who was connected to his late children. The man was so unhelpful, and unpleasant, that I am still incredulous at his lack of wanting to perpetuate the life story of Stallings. Today is the anniversary of his birth, in 1894, which is a good reason to present some of my information about him.
I've always liked the Stallings story. He served as a U.S. Marine in World War I, and was grievously wounded. Stallings joined the staff of the New York World in 1922 to write book reviews and editorials. The war veteran was passionately liberal; when he referred to a black man as "Mr." in print, he angered readers in his Georgia hometown.
Stallings and Maxwell Anderson were both working at the World when they decided to collaborate on a play. Stallings, who'd lost a leg in combat as a Marine, knew he wanted to write an antiwar drama. The pair co-wrote What Price Glory? for producer-director Arthur Hopkins, and it exploded at the Plymouth Theatre on September 5, 1924. It was the first play to use the profanity-laced speech of soldiers, and its grim view of war was riveting. The story of First Sergeant Quirt (William Boyd) and Captain Flagg (Louis Wolheim) in the trenches of France, the script used Stallings' experiences in World War I. It ran for 433 performances and got the playwrights contracts in Hollywood.
Not much is ever written about him, and a lot is not accurate or focuses just on his movies. Here is a little more on an overlooked American writer.
The Algonquin Round Table considered Laurence Stallings a hero because of his sacrifices as a WWI combat veteran; many members had also served in the A.E.F. His combat experience would provide him the inspiration to write passionately about war in a bestselling book, a gritty Broadway drama, magazine stories and fiction, and a smash hit silent film.
Laurence Tucker Stallings, Jr., was born November 25, 1894, in Macon, Georgia. He graduated from Wake Forest with a B.A. in 1915. His first job was a reporter on the Atlanta Constitution in 1915.
In 1917 Stallings enlisted in the Marines and was sent to France, where he participated in some of the bloodiest campaigns of the war. He received a battlefield commission, and took over command of a Marine outfit. At the Battle of Belleau Wood near the Marne River, Stalling was wounded in June 1918. Awarded the Purple Heart and the Croix de Guerre, Stallings spent eight months recovering in France before being shipped home after the Armistice was signed.
Once home, he married his college sweetheart. Helen Poteat was the daughter of the Wake Forest president, William Louis Poteat. The wedding was on March 6, 1919, at the campus in Winston-Salem. After the wedding, the couple moved to Washington, D.C., where Stallings joined The Washington Times as a reporter and earned his M.A. from Georgetown. His writing career was taking off, however, Stallings never fully recovered from his combat injuries, and in 1922 had to have his right leg amputated.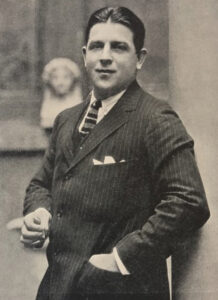 After recuperating Stallings and his wife moved to New York, where he joined the World. A tall, dark-haired, good-looking Southerner, Stallings sometimes came to the Algonquin Hotel wearing his artificial leg, other times he'd walk in on a crutch. His newspaper co-workers Heywood Broun and Deems Taylor introduced him to the Vicious Circle after it was an established institution.
In 1924 Stallings was writing book reviews three days a week for the World. He was tapped by executive editor Herbert Bayard Swope to be on the "Op. Ed" page with Franklin P. Adams, Heywood Broun, Frank Sullivan, and Alexander Woollcott. He shared an office with Maxwell Anderson, at the time a fellow editorial writer. They collaborated on their first play, What Price Glory? for the powerful Broadway producer Arthur Hopkins, who'd also staged Don Marquis' hit play The Old Soak. With What Price Glory? Stallings was able to share his real-life experiences about the trauma and heartbreak of soldiers in combat. It was a hit at the Plymouth Theater, 236 West 45th Street, and ran for more than a year.
But he was not finished with the Great War. His novel, Plumes, was a contender for the 1925 Pulitzer Prize, but it was edged out by another Algonquin regular, Edna Ferber, for her novel So Big. Broun weighed in on the subject in his column:
"I have heard that Plumes, by Laurence Stallings, was the second choice of the committee, but this is not official, as the body does not announce any honorable mentions. At any rate, Plumes should be high up on the list. There are things in Plumes which seem to me better than any portion of So Big, but it is a less evenly developed book and is justly placed below Miss Ferber's novel. If there were such a thing as a pentathlon, or all around prize, Laurence Stallings could not be shut out from victory, since he wrote a novel which proved a contender and collaborated with Maxwell Anderson on a play which ranked near the top."
His novel was adapted for the silent movie epic The Big Parade that same year, and was among the first blockbusters in the pre-talking pictures era. Directed by maverick filmmaker King Vidor, The Big Parade played to sell-out crowds across the nation. A railroad car was used to transport the orchestra, lighting, and personnel from town to town. The film, made just seven years after the conflict, was the first to show the gritty side of the war on the big screen. The central character, played by John Gilbert, like Stallings, also loses a leg in battle.
Stallings and his wife had two children together during their rocky 17-year marriage. In December 1936 Stalling's wife sued him for divorce in Reno, Nevada, charging him with cruelty. In a private trial a judge granted the divorce and the 17-year union was over. He walked away from his family and gracious estate in North Carolina, and never saw them again. Stalling was free to marry a girlfriend, Louisa St. Leger Vance, a 25-year-old writer. On March 18, 1937, the couple was married in Manhattan at her parents' home, 410 East 57th Street. They had two children. Stallings moved to Hollywood, where he remained for the rest of his life.
In the 1930s Stallings had a tumultuous decade. He couldn't choose between literature or motion pictures. He was close to Robert Benchley and could be spotted at "21" together; both men had the same issues of working for art or commerce. In 1934 Stallings became an editor of Fox Movietone News (offices 460 West 54th Street), and resided at 50 East 77th Street. In 1935 Fox sent him to Ethiopia for what turned out to be a two-year assignment. He was looking for the start of the next war with four cameramen and 50,000 feet of film as they waited for Mussolini to invade. Stallings filed stories for the New York Times on the conflict, and then returned home to America. He abandoned his first wife and two small daughters after his 1937 remarriage. When the U.S. entered World War II, Stallings went back on active duty with the Marines in 1942. He served as an intelligence officer in the Pentagon, and attained the rank of lieutenant colonel.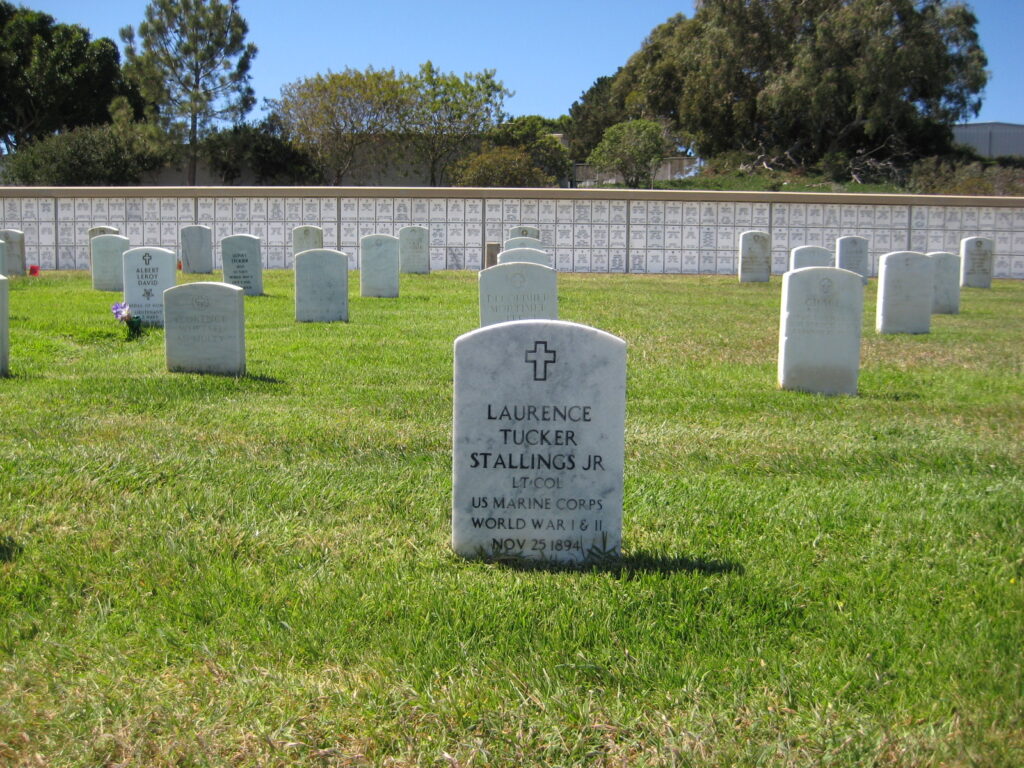 Stallings returned to California to write screenplays, magazine articles, and books. He lived in Pacific Palisades and his health deteriorated. Doctors had to remove his other leg in 1963, the same year he published a stirring account of World War I, The Doughboys. Stallings died on February 28, 1968, at his home. He received a military burial with a Marine Corps honor guard. Stallings is interred outside San Diego in Ft. Rosecrans National Cemetery.
Adapted from The Algonquin Round Table New York, A Historical Guide (Globe Pequot Press). Order the book here.