Centennial of Abie's Irish Rose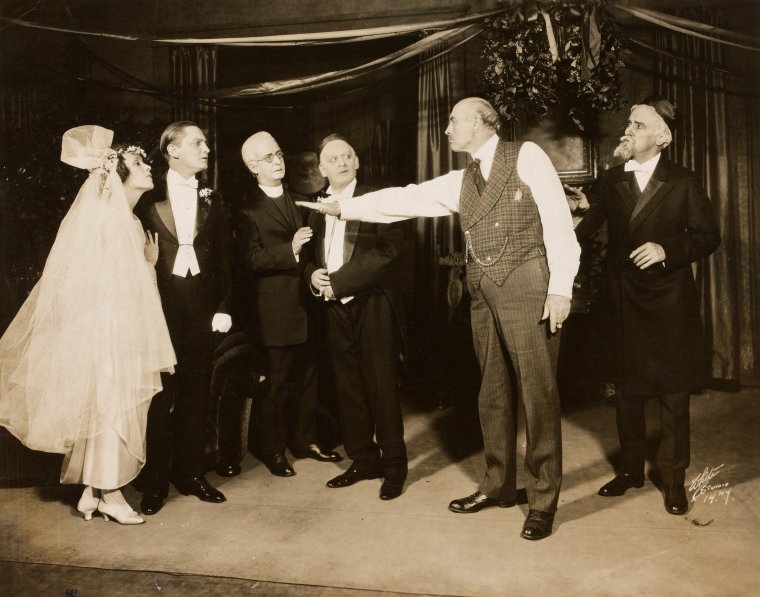 Today the New York Times published a very thorough and detailed account of the centennial of Abie's Irish Rose, a hit show 100 years ago that the Algonquin Round Table by turns roasted and scorned. The article quotes Robert Benchley and Alexander Woollcott, with a passing reference to another Vicious Circle member, Harpo Marx.
Opening a few days after St. Patrick's Day 1922, Abie's Irish Rose was the miracle show of the decade. Despite withering reviews and serving as the butt of jokes all over town, it ran for 2,327 performances—five years and five months. Anne Nichols wrote the unpretentious comedy allegedly based on a real-life story of a mixed-marriage she heard about. In her story, young Abraham Levy brings home from the war his blushing bride, Rosemary Murphy, a girl he met in France while she was entertaining the doughboys. But knowing how his family would take the news, he introduced her to his parents as Rosie Murpheyski. In the next act the Murphy clan comes over for a visit, and hilarity ensues.
The show appealed to audiences everywhere; at one time six road companies were touring the United States and others were in England and Australia. The playwright raked in more than $6 million and eventually had to cut down on the road companies because the income taxes were crushing her. All the major critics blasted the show, with the exception of Alexander Woollcott. One standout, and long-suffering, reviewer was Robert Benchley. He had to compose a few lines each week for a capsule review in Life. Among his finest gems were, "People laugh at this every night, which explains why democracy can never be a success," and "Where do the people come from who keep this one going? You don't see them on the streets in the daytime."
Dorothy Parker, who is not included in the article, was working for Ainslee's at the time. She lumped it in with another play of a similar type. In September 1922, she wrote, "And then there came, in quick succession, The Rotters and Abie's Irish Rose. Despite its having one night's start on its opponent, The Rotters was defeated by Abie's Irish Rose for the distinction of being the season's worst play."
As the Times points out, no modern theater company is currently interested in a revival of Abie's Irish Rose. Which may be a good thing.
The Dorothy Parker reviews from the era are collected in Dorothy Parker Complete Broadway, 1918-1923.